Prevounce at HIMSS20
Exciting news! You can check out all that Prevounce has to offer at this year's HIMSS20 conference in Orlando Florida. Scheduled March 9th through March 13th, HIMSS20 is the place to be for anything and everything related to healthcare innovation, education, and technology.
We are excited to show and tell all that we have to offer during our inaugural HIMSS exhibit, so be sure to stop by at booth #5875 and say hello! You can even schedule a meeting with us here.
About HIMSS and HIMSS20
The Health Information and Management Systems Society, more commonly known as HIMSS, is a global network of healthcare professionals who have come together to focus on improving health outcomes worldwide through information and technology innovation. HIMSS is an industry thought leader and provides expertise in the areas of health information, public policy, research and analytics, and workforce development.
The conference, HIMSS20, is an amazing gathering that draws leaders and healthcare innovators from all around the world, providing opportunities to build connections that encourage collaboration and innovation. Between the numerous ongoing events, more than 350 presentations, and influential keynote speakers, the HIMSS20 conference promises to promote inspiration and unity within the healthcare community, worldwide. No matter what your area of expertise is, with the more than 45,000 expected attendees from over 90 countries, the HIMSS20 conference will provide excellent opportunities for networking with the world's best healthcare thinkers and doers.
"In a time of unprecedented healthcare disruption, HIMSS20 calls health information and technology professionals around the world to one essential, simple, bold action: Be the change.". --HIMSS20
Visit Prevounce at Booth #5875!
Prevounce is excited to have this opportunity to collaborate with healthcare leaders and show-off what we're all about. With the HIMSS20 focus on worldwide healthcare change, the conference will be a wonderful venue to showcase our innovative technology that effectively promotes preventive care and wellness. Prevounce aims to increase patient health outcomes while supporting practitioners and practices with a single-platform, practice-specific wellness program. We work hard to keep up with every CMS update which means our platform is always Medicare compliant through every change, ensuring maximum reimbursement for our partnering practices and practitioners.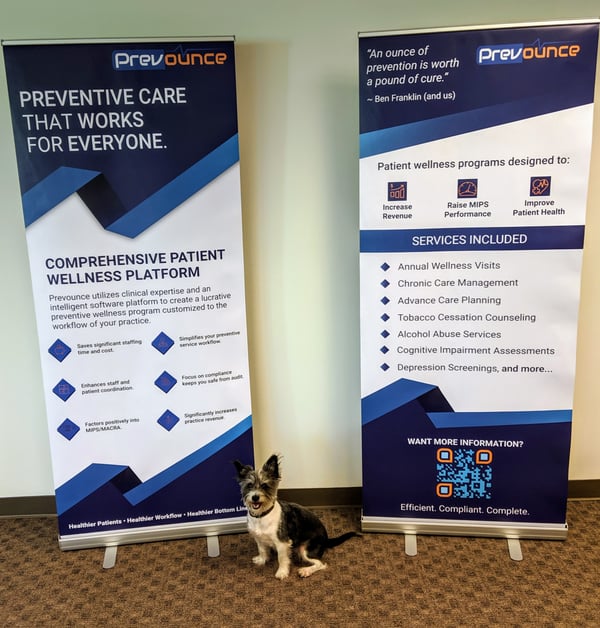 So, if you're going to be at the HIMSS20 conference, be sure to stop by Booth #5875 to say hi and get your Prevounce swag. We look forward to meeting you and hearing all about the impact you make on health and wellness in your community. While you're here, feel free to test-drive our software and ask questions because we'd love the opportunity to show you all the benefits Prevounce has to offer you and your practice. See you there!
(Unfortunately, our Chief Morale Officer Maxwell will not be going.)