Prevounce Health, creators of the Prevounce Comprehensive Remote Patient Care Management Program Platform, congratulates Sally Bachori, recipient of the second Prevounce Preventive Health Graduate Scholarship.
The Prevounce Preventive Health Undergraduate Scholarship was open to students entering or already established in an accredited, U.S.-based graduate program who are pursuing a career in medicine, nursing, and/or public health. Bachori is originally from Baghdad, Iraq. She currently attends Keck Graduate Institute in Claremont, California, where she is pursuing her Master of Science in Community Medicine.
Q&A With Sally Bachori
Bachori spoke with Prevounce about her interest in health, future aspirations, and the value of the Prevounce scholarship.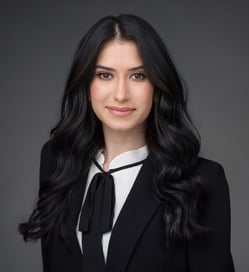 Q: What are your career aspirations?
Sally Bachori: I am pursuing a career in medicine and aspire to become a physician who brings together science, politics, and servitude to deliver the best healthcare possible to populations in need.
Q: How did you develop an interest in healthcare?
SB: Studying medicine is a privilege. To me, medicine is the ultimate career. I chose to pursue a career in medicine because it provides me with constant mental stimulation, continuous opportunities and challenges to learn and progress, means for research and new discoveries, as well as a decent salary.
But most importantly, a career in medicine will empower me to help those most in need, to be respected by others, and to feel job satisfaction in a way that is impossible to feel in many other careers. The opportunities are endless, and the choice vast; however, along with this comes huge responsibility to individual patients, the population as a whole, and the health interdisciplinary team in which I will be working.
Q: What are your ambitions in healthcare?
SB: The adversities my family and I faced as refugees have strengthened my resolve, refined my character, and confirmed my decision to pursue a career in medicine. Obtaining a medical degree will allow me to promote physician diversity, improve cultural competency in medicine, and tackle global health disparities in underserved minority communities.
I am committed to becoming a successful physician-scholar and fighting alongside a community of bright, driven, and compassionate healthcare professionals to provide quality healthcare for all.
Q: How do you hope your work will impact the future of preventive health?
SB: Through the harsh experiences my family and I faced as refugees, including forced displacements, lack of stability and security, and the constant lack of proper healthcare services, it became clear to me how sociopolitical factors can be detrimental to the health of disadvantaged populations. Surviving those difficult circumstances fueled my drive to enact change not only clinically as a future physician but also in healthcare policy for the underserved. By becoming a physician, I know I can use my experiences to promote refugee health rights by leading national and global medical missions to ensure access to the quality healthcare they deserve.
Q: How will receiving the scholarship help with achieving your goals?
SB: I am sincerely honored to have been selected as the recipient of the 2021 Prevounce Preventive Health Graduate Scholarship. This scholarship will tremendously lower the burden of school expenses for me and allow me to focus more on my studies, ultimately making my dream of becoming a physician a reality.