Prevounce Health, creators of the Prevounce Care Coordination Platform, congratulates Alyssa Johnston, the recipient of the first Prevounce Preventive Health Undergraduate Scholarship.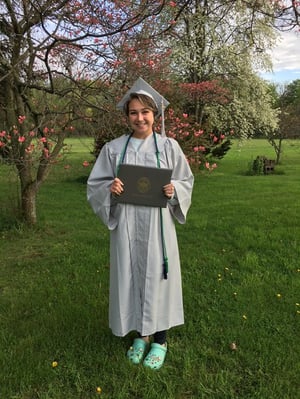 The Prevounce Preventive Health Undergraduate Scholarship was open to students entering or already established in an accredited, U.S.-based undergraduate program who are pursuing a career in healthcare. Johnston is originally from North East, Pa., and now attends Mercyhurst University in Erie, Pa., where she is a pursing a Bachelor of Science with a major in public health. Johnston expects to graduate in 2022.
Q&A
With
Alyssa Johnston
Johnston spoke with Prevounce about her interest in health, future aspirations, and the value of the Prevounce scholarship.
Q:

How did you develop an interest in healthcare?
AJ: I have always been more interested in the STEM areas in school and knew that I wanted to help people, so I was inevitably drawn to healthcare. I had received an offer for an athletic scholarship to play softball at a local junior college and ended up majoring in respiratory therapy for my associate degree. Working full time as a registered respiratory therapist at a local hospital helped me discover my passion for education and disease prevention. Being able to talk to and try to help educate my patients and their families is my favorite part of my job but, unfortunately, we do not often have a lot of time to do so in the hospital. That is why I decided to go back to school to finish my bachelor's degree in public health.
Q:

What do you like about healthcare?
AJ: Healthcare is challenging, high stakes, and requires good teamwork skills, so it pushes people to be the best that they can be. Before I was working in healthcare, I was very shy and not very confident in myself. Once I was able to find my footing and navigate the stress of hospital work, I gained so much confidence in my education, knowledge, and abilities to help others. I wouldn't be the person I am today without those experiences.
Q:

What are your career ambitions in healthcare?
AJ: I hope to be able to combine my education and experience from respiratory therapy and my education in public health and turn it into chronic disease prevention and health education. Ideally, I would love to work with people with pulmonary diseases, but I am looking forward to any opportunities to work in public health that come my way.
Q:

How will receiving the scholarship help with achieving your academic

and/or professional goals?
AJ: This scholarship award is going to help me continue my education and finish my bachelor's degree. Continuing to work while going to school full time is stressful in and of itself, so this award will help alleviate some of the financial stress associated with higher education. I am extremely honored and humbled that the scholarship committee gifted this award money to me, and I plan to put it to good use!