Prevounce Health, creators of the Prevounce Care Coordination Platform, congratulates Alexandra (Ola) Baczynski, the recipient of the first Prevounce Preventive Health Graduate Scholarship.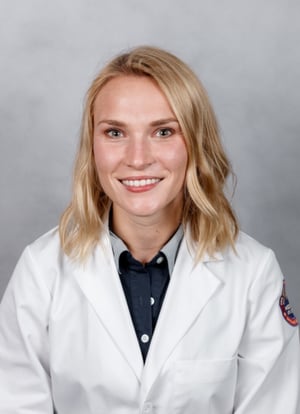 The Prevounce Preventive Health Graduate Scholarship was open to students entering or already established in an accredited, U.S.-based graduate program who are pursuing a career in medicine, nursing, and/or public health. Baczynski is originally from Chicago. She is now a second-year medical student at the University of Illinois College of Medicine in Chicago where she is pursuing her Doctor of Medicine degree in the class of 2023.
Q&A
With
Alexandra Baczynski
Baczynski spoke with Prevounce about her interest in health, future aspirations, and the value of the Prevounce scholarship.
Q:

How did you develop an interest in healthcare?
Alexandra Baczynski: Although I have always been interested in medicine as a discipline, it took several years for me to decide to pursue medical school. My parents immigrated from Poland in the late 1980s, and I remember their frustration when it came to navigating the healthcare system as non-English speakers.
Upon completing my bachelors, I decided to gain more exposure to the medical field. I began volunteering as a Polish interpreter at CommunityHealth, the largest volunteer-run free clinic in the nation. I also spent several weeks as a volunteer clinic aid in a rural town in Jamaica. Those experiences changed the trajectory of my life. I realized that within those small, everyday patient encounters, I felt like I was having an impact increasing access to vital care and resources. From that moment, I decided to pursue medicine, specifically committed to serving historically disadvantaged and underserved populations.
Q:

What are your career ambitions in healthcare?
AB: During my undergrad, I majored in English and environmental science, both fields which I hope to integrate as a future physician. Because I am passionate about learning the personal histories of patients, I believe that I will get involved in primary care. A primary care career would allow me to be a point of contact between the healthcare system and my community while also permitting me to build decade-long relationships with patients.
Additionally, I am interested in examining the intersection between environmental and patient health. In other words, I believe that the space within which our lives unfold is a potent influencer of our health. As climate change inevitably unfolds over the course of my life, I want to not only provide healthcare for underserved populations, but I also want to examine environmental hazards within underserved areas in order to work toward mitigating some of these burdens which are borne primarily by minorities and those within lower socioeconomic statuses.
Q:

How do you hope your work will impact the future of preventive health?
AB: As I have briefly touched on, an understanding of how our planet's health impacts population health is critical. In our world today, we see how rates of disease and prevalence of illness vary based on demographics, income, and zip code. This is a harsh reality. I do not want to be a complacent physician in this system. Rather, I want to investigate the role of the environment to better understand how negative externalities, such as exposure to pollutants, plays into life expectancy, quality of life, and social determinants of health. We know, for example, that low income communities have higher rates of asthma, but what policy has been implemented as a result of this? Not only do we need physician researchers, but we need physician advocates to stand up for historically marginalized communities. I want to be a physician who not only provides healthcare to my southwest side community of Chicago, but I want to help the next generation of Chicagoans live healthier and longer lives.
Q:

How will receiving the scholarship help with achieving your academic and/or professional goals?
AB: This scholarship is an incredible gift. When I think about my medical school debt, I often feel very overwhelmed and uneasy. But when I heard that I was selected for this prestigious Prevounce scholarship, I felt some of that anxiety evaporate. Just the thought that such a reputable organization like Prevounce wants to support me financially in my academic journey means so much to me.
By alleviating some of my tuition burden, Prevounce has allowed me to focus my efforts addressing health inequity in my hometown. This scholarship has also encouraged me to give back and support others in my own way by seeking out minority and first-generation students interested in medicine and helping them in their healthcare journeys.